The talk of the town TV drama Baaghi is ending tonight with the final episode to be aired on Urdu1. However, this landing is noting going to be safe for the TV play as another controversy has come up.
As Dawn Images reported:
Last week, lawyer and Internet activist Nighat Dad took to Facebook to voice concern over the alleged exploitation of Qandeel's story at the hands of Baaghi's producers.

She claimed that "well-intentioned efforts to highlight Qandeel's cause, such as the Urdu One drama serial Baaghi, have exploited and misled her parents," by not having paid them their dues while pocketing the profits for themselves.
Here is what Nighat Dad said in her Facebook post: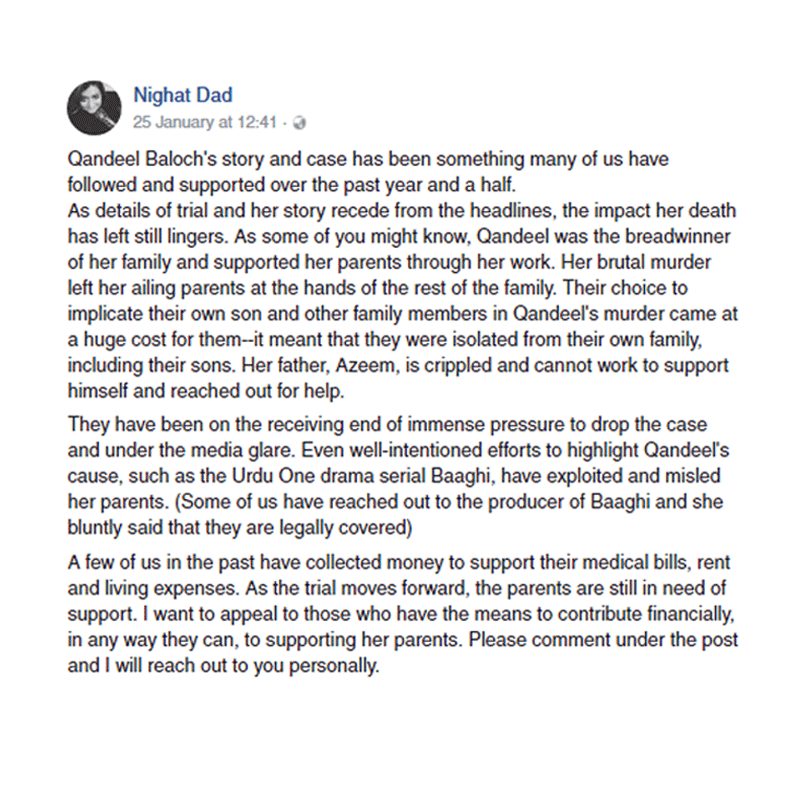 The controversy grew when Nighat Dad pointed out that Urdu1 TV play, Baghi has earned huge amount of profet by selling the plight of Qandeel Baloch:
As the response to the claimes, Nina Kashif, producer of Baaghi and General Manager of Urdu1, responded on social media calling all such accusations 'false, baseless and wrong.'
As Dawn Images reported:
Nina claims that the makers behind the drama took "proper permission for the drama serial from the parents, despite the fact that there were only a few incidents that were taken from Qandeel's life."
Nina also added that the parents signed a contract in Urdu and asked for an amount in return which they were paid.
According to a piece published on Dawn last year:
 "Qandeel's family was not interested in talking about her. When interest in buying the rights to her life story was conveyed, they sent over a lawyer to talk about money with the channel. They signed off the rights, giving the channel complete creative liberty."